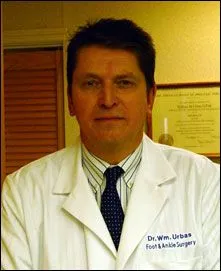 William Urbas, DPM, FACFAS
Dr. Urbas is originally from Northeastern Pennsylvania, he attended the University of Scranton where he earned his Bachelor's of Science degree. Dr. Urbas moved to the Philadelphia area at attend Temple University School of podiatric Medicine. He did his surgical residency program at the Kennedy Memorial Hospital / University Medical Center in Southern New Jersey. Dr. Urbas is board certified in both foot and ankle surgery. Dr. Urbas is on the teaching staff of multiple schools of podiatric medicine. He is the Chairman of the Podiatry Department at the Crozer Chester Medical Center, Fitzgerald Mercy Hospital and Springfield Hospital. He is the director of the Podiatric Medical and Surgical Residency Program at the Crozer Chester Medical Center for the past 20 years. Many Philadelphia podiatrist received their training from Dr. Urbas. Dr. Urbas frequently lectures to the general public and many medical groups. Dr. Urbas has had special training in both laser and arthroscopic techniques. Dr. Urbas treats all types of foot and ankle conditions, both medically and surgically. His special interest is in trauma and diabetic foot and ankle reconstruction. He also loves to help injured athletes return to full activities. Dr. Urbas is updated on all the new techniques and procedures so he can offer them to his patients. Dr. Urbas and his wife Ranee have a son, Ryan, and a daughter, Kirstyn. Dr. Urbas loves to play golf and snow ski. He is an avid Eagle's Football fan. Dr. Urbas has a very simple practice philosophy, treat people the way you would like to be treated.
---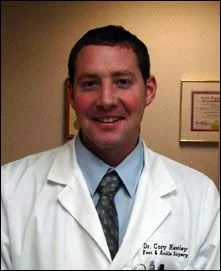 Cory Hawley, DPM
Dr. Cory Hawley, originally from Montrose, PA, joined Dr. Urbas in practice after completed a 3 year surgical residency at the Crozer-Keystone Health System. He also graduated from Temple University School of Podiatric Medicine where he completed externships at Yale University Hospital System, Washington Hospital System in D.C., and Cambridge Health Alliance affiliated with the Harvard Medical System.

Dr. Hawley attended Millersville University for undergraduate pre-med training. He excelled in track and field and cross country as a student athlete and studied abroad at the University of Lincolnshire and Humberside in Lincoln U.K.

Dr. Hawley specializes in foot and ankle fracture repair, diabetic wound care, forefoot and rear foot reconstructive surgery, laser treatment of ailments, and sports medicine injuries. He is an attending physician at the Center for Wound Care and Hyperbaric Medicine at Crozer Chester Medical Center. Dr. Hawley is board certified in both foot and ankle surgery.
Dr. Hawley enjoys running, golf, basketball, baseball, art history, traveling, and spending time with his family.
---
Hans Wangsness, DPM
Dr. Wangsness grew up in Minnesota, Colorado and Illinois. He went to the University of Tennessee in Knoxville for undergrad, and then went to the Temple University School of Podiatric Medicine in Philadelphia. He did his residency nearby within the Crozer-Keystone Health System, where he served as chief resident his third year. Dr. Wangsness is board qualified in both foot surgery and reconstructive rearfoot/ankle surgery by the ABFAS, is an associate member of the American College of Foot and Ankle Surgeons and has ACFAS certification in ankle arthroscopy. He currently lives in Chadds Ford PA, and in his free time he enjoys cooking, exploring new restaurants, ice skating, cars, and motorcycling.
---